Brightness adds a menu bar item for adjusting the brightness of your Mac's built-in display.

If your MacBook or MacBook Pro has a backlit keyboard, Brightness adds a second menu bar item for adjusting it.

Please note that Brightness cannot currently control the backlighting for external displays like the Apple Cinema Displays.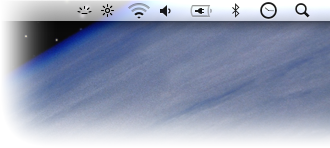 Installation

Drop Brightness into your Applications folder or any other folder of your choice, then double-click its icon to launch it.

To make Brightness always available after a restart, you should add it to your login items:

1. Open up the System Preferences
2. Click on the "Accounts" item
3. Click on "Login Options"
4. Choose the "Login Items" tab and add Brightness to the list

If you need to quit the app, simply open the Activity Monitor, select "Brightness" from the list of processes and press the "Quit Process" toolbar button.