Bevy is a unique application launcher that automatically discovers your applications and neatly organizes their icons into visual groups based on the folders containing the applications.
Bevy searches a specified list of folders and creates a group for each folder.

It comes with a set of pre-defined standard locations, but you can add and delete folders to match your own personal way of organizing apps within the Finder.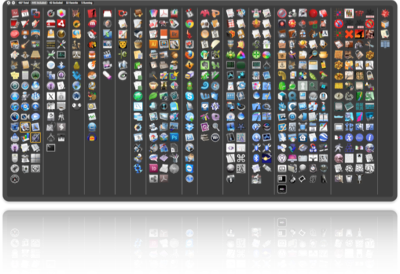 For the ultimate convenience, Bevy can be revealed and hidden numerous ways...
By pressing a global hot key
By clicking a status menu icon
By clicking its dock icon
By mousing over a corner or edge hot spot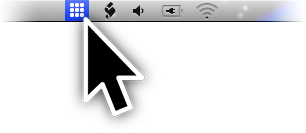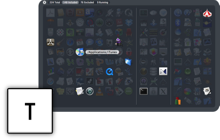 To help you quickly find the application you're looking for, tapping a key will highlight applications with matching names. Or, you can drag-and-drop a file onto Bevy's window to highlight just those compatible applications.

In addition, you can hide rarely used apps and un-installers so they won't clutter your window.
You can also drag-and-drop a file onto Bevy's window to highlight just those compatible applications.

In addition, you can hide rarely used apps and things like "un-installers" so that they won't clutter your window.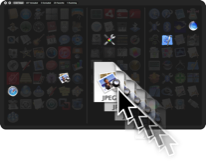 And Bevy uses Spotlight to stay up-to-date. So when you add, remove or just move apps around, Bevy updates its view to match.
Watch a 5 minute screencast to see some of Bevy's unique functionality.
Convenience. Use a global hot key, the menu bar or the Dock icon for quick and easy access.
Doesn't take up screen real estate. It's there when you need it and gone when you don't.
Highlight matching applications with a key press. Find what you need quickly.
Drag-and-drop a file to highlight compatible applications. How cool is that?
Create groups of icons from folders you specify. No adding icons one-by-one.
Hide icons you don't want to see. Little AppleScripts and "un-installers" won't clutter your window.
Always up-to-date. Uses Spotlight to keep track of changes so you don't have to.
Download below and purchase from bergdesign for $9.95

After downloading, simply choose "Purchase Now"
from Bevy's application menu. After checkout, you'll instantly receive a receipt with your serial number.

10.11 El Capitan
10.10 Yosemite
10.9 Mavericks
10.8 Mountain Lion
10.7 Lion
Purchase and download from the Mac App Store for $9.99

Please Note: If you purchase through the App Store, you will only receive updates via the App Store. If you download and purchase through the app's integrated store, you will receive updates through the app's built-in Sparkle update mechanism.

Apple did not provide a mechanism for us to upgrade existing customers to the App Store version, so we will provide the app through both purchasing mechanisms to continue supporting existing customers.

Note that some features of the App Store version may be restricted by sandboxing rules, so the versions may not be identical. Also, please note that release dates for updates may be different for each version due to the review process required by the App Store.